---
Discovering Sok Kwu Wan, by

Megaen, our new Sok Kwu Wan Correspondent

:



The Other Side…



In contrast to the daily hustle and bustle of Yung Shue Wan (YSW), non-holiday week days in Lamma's second biggest village, Sok Kwu Wan (SKW), are very nice, especially before 11 am when the few tourists on such days start arriving.

SKW is peaceful at these times, with just some locals out for a stroll or a stretch and it's…quiet. A big difference to weekends and holidays when the village gets its fair share of tourists. However, unlike the many alleyways and streets of YSW, SKW has just one main street (using that term very loosely), so hordes of tourists can be annoying. Technically there are a few streets in SKW, but that's for postal delivery really. So from the ferry pier you have one of two options - if you turn left you are headed towards Mo Tat and if you turn right, you are headed towards YSW, eventually.

If you walk to Mo Tat, you will pass through the village's park with its ubiquitous LCSD exercise circuit and football pitch.


Attachment:

File comment: My dog Lexie in the park
Megaen-SKW-01.jpg [ 127.72 KiB | Viewed 1720 times ]

When the plants are in bloom the park is really lovely.


Attachment:

File comment: Lovely flowers and my other dog Axyl's butt
Megaen-SKW-02.jpg [ 110.43 KiB | Viewed 1720 times ]

But for all you city-dwellers reading this, you should be prepared: there is a lot of nature in SKW. And by nature I mean everything from flowers and birds to snakes and centipedes. And a lot of bugs. Lotta lotta bugs.

Forewarned is forearmed. I saw a cobra last year (2014) in the park at night so that was the last time I went to the park at night…

Walking from SKW to Mo Tat takes between 30 – 40 minutes, depending on how quickly you walk. Mo Tat has a very nice beach, a Western style restaurant (The Bay) and the rest is houses. It's worth a visit but if you don't feel like walking from SKW, you can take the Aberdeen ferry from SKW to Mo Tat. Just tell the ferry guys that you are only going to Mo Tat so you don't pay full price for the trip. The journey takes just 10 minutes.



Dogs



Departing from my discourse for a moment, I need to talk about dogs. As anyone who lives in YSW, SKW or indeed any village anywhere in Hong Kong knows, dogs are a way of life for many people. Sadly however, not all dogs are treated equally. Some people are very good parents to their dogs, while others can't be bothered to take care of their pets. This latter case has contributed to the situation of feral dogs, who in SKW are usually referred to as the 'beach dogs' (although there are a few who hang out at the Tin Hau Temple who I refer to as the 'temple dogs').

Typically, the feral dogs in SKW prefer not to have anything to do with people and mind their own business, passing the time on a few of the village's several beaches. While they are territorial and will bark, they don't normally do more than that. The dogs that do end up attacking other dogs and even more rarely people are the dogs that are owned but not controlled by their people. There are two areas in SKW to be aware of this situation.

One is at the top of the hill from SKW heading to Mo Tat. There is a group of dogs who are owned but not taken care of by their owners at this location. They are fiercely territorial so if you do walk to Mo Tat with your dog(s) be prepared to move quickly past this area. After that, it is a nice walk, although not as nice as it was even 10 years ago, with all of the construction going on in preparation for the government's plan(s) to 'urbanise' Lamma. I will, however, leave this ongoing but futile debate for others. But for the curious, according to Wikipedia:

"A planned community is under discussion to be developed at the site of Sok Kwu Wan's abandoned quarry. The development could house an anticipated additional 6,000 residents on the island. Zoning for the community could consist of up to 1,900 units with 700 reserved for subsidised housing, a 260 suite hotel, and facilities for water sports. The site plans to preserve a green belt consisting of a lake and many acres of pristine woodlands."

Source: http://en.wikipedia.org/wiki/Sok_Kwu_Wan

Sigh.

For the time being, if you go to Mo Tat on a non-holiday week day, you will feel like you own the beach. Bliss.


Attachment:

File comment: View of Mo Tat Beach from the walkway
Megaen-SKW-04.jpg [ 63.13 KiB | Viewed 1720 times ]

SKW to YSW



Back to the ferry pier in SKW, if you turn right you will be heading towards the seafood restaurants that the village has built its reputation on. I prefer to think of this as running the gauntlet of death. There are tanks full of fish and seafood to give tourists the impression of 'fresh' (as in just caught from the non-polluted sea!) fare to choose from.


Attachment:

File comment: You'll never see a view of the Gauntlet Of Death like this!
Megaen-SKW-05.jpg [ 85.25 KiB | Viewed 1720 times ]

The poor animals often spend more than a few hours or even a few days in the tanks, and the sea, well, you can see for yourself the state it is in. If you don't like to look your dinner in the eye before you eat it, there is little else to choose from.

There is one mom and pop store that sells over-priced snack food and beer and a coffee shop with Hong Kong Island prices but little else to recommend it. If you're not keen on any of this I suggest you bring your own food for a day out.

As far as other 'amenities', there is a government clinic which is open normally on Mondays and Fridays (the rest of the time the staff are in YSW), a public library open on Tuesdays and Fridays (again, the rest of the time staff are in YSW),


Attachment:

File comment: Photo of SKW Public Library, next to the village dumpsters
Megaen-SKW-06.jpg [ 135.93 KiB | Viewed 1720 times ]

And a police…office, not really a station. They can't do any real police work from here. If, for example, you have to give a statement, they literally ship you off to another outlying island, Cheung Chau, to do it. They may take you in the official police boat but you will have to spring for the two ferries back to Lamma!
If you do plan on eating at one of the seafood restaurants, don't walk on the 'street' that goes behind them, although this is the alleyway where a sitting out area, clinic and police office are all located.


Attachment:

File comment: A quiet view of G.O.D.
Megaen-SKW-07.jpg [ 78.56 KiB | Viewed 1720 times ]

About five minutes from the ferry pier through the G.O.D. is one of Lamma Island's three Tin Hau Temples.

Ordinarily with an open square, once or twice a year this area is filled with a bamboo structure for special festivities, like the recently held Chinese opera.
Next to the temple is a small pond with carp and turtles, so if you like either (or both) of these animals, it's worth a look.


Attachment:

File comment: A lovely flower at Tin Hau Temple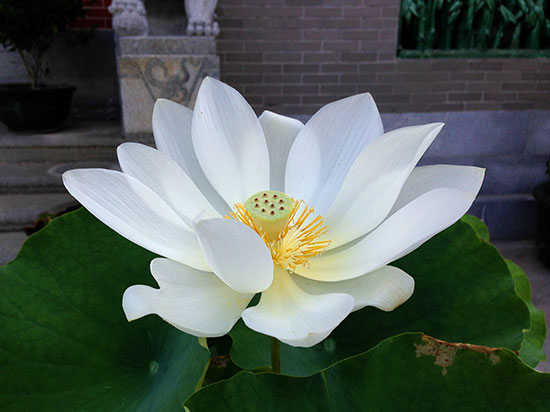 Megaen-SKW-10.jpg [ 41.95 KiB | Viewed 1720 times ]

From the temple you can go one of two ways. If you go up the stairs on the left it will take you to Tung O. I've never been keen to climb that many stairs so I can't comment on this further, except to give a word of warning.

At the top of the stairs is the other site of aggressive dogs, dogs that are owned but largely ignored by their owner. Because the path is narrow and they are territorial, they defend their area strongly. Last year a friend of mine was walking his dog up there when these dogs attacked his dog so savagely, my friend's poor dog died of his wounds. So be very careful taking your dog up there.

However, if your plan is to walk from SKW to YSW, you would take the main path and just keep walking. There is plenty of signage in SKW if you are trekking to YSW, so initially it should be easy to keep your bearings.

Less than five minutes from the temple you will come to another decision; go straight or turn right. If you go straight the path seems to end, but you can go up the eventual left hand path and it will take you the 'back way' to Tung O.

So if heading to YSW turn right and cross the bridge. You are now at one of SKW's several beaches. But before you think of taking your shoes off and going for a romantic stroll just keep this in mind: the beaches are where the dogs, both owned and not owned, love to go poop. Maybe I am more squeamish than the average person, but you won't catch me walking barefoot on these beaches – yuck!

However, at low tide it is tempting to see how far out you can walk without actually getting your ankles wet. Certainly from this first beach you can walk to the stairs just below the temple without the water going over your feet. But the converse is quite different; if it's high tide, then the beaches are submerged and walking on them is moot, so to speak.

When you cross the bridge you are in Chung Mei Village, with 'village' being loosely used here. There is a small group of houses on one side of the, is it estuary? And another small group of houses on the other side (see photo). The path in front the houses dead ends – it is strictly utilitarian in function - so keep following the main path.


Attachment:

File comment: View from Chung Mei Village back to SKW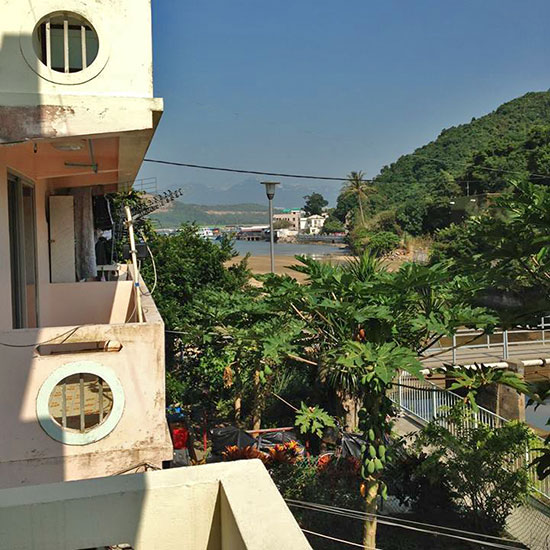 Megaen-SKW-11.jpg [ 94.47 KiB | Viewed 1720 times ]

Soon you will come to another beach. Again at low tide it's almost irresistible to see how far out you can walk. To the Aberdeen ferry pier before your ankles get wet? Personally I have no idea. Not a fan of walking through sludge and droppings. Call me finicky.

Another few minutes you get to not only another beach but a cave, which seems to be a big draw for tourists. According to the DiscoverHongKong website:

"The Kamikaze Cave, on Lamma Island, held strategic importance for Japan's Hong Kong-based 'kamikaze team' during the Second World War. They concealed speedboats here to be deployed on suicide missions against Allied shipping."

Source: http://www.discoverhongkong.com/eng/see-do/culture-heritage/historical-sites/colonial/kamikaze-cave.jsp#ixzz3cjiY0pph

Needless to say, I've never entered it.

This beach is where you will come across the first of the 'beach dog' packs. Again, they bark but after a while they get bored.


Attachment:

File comment: Lexie at the third beach
Megaen-SKW-12.jpg [ 97.87 KiB | Viewed 1720 times ]

Just a bit beyond is another fork in the path. If you follow the right hand side you will start on the trail that takes you around the other side of SKW, including the site of the above mentioned 'abandoned quarry'. If you follow the left hand side (and the signage which will now start to become thin on the ground) it will lead you to YSW.

If you are getting tired, take the right hand side path to the Lo So Sitting Out Area.
This covered area with benches is a nice respite with a great view. You can even barbecue here! Next to it is yet another beach with another group of beach dogs, who bark and then find something better to do. Further on the path you will come eventually to a proper pavilion to rest – which you'll need to as it is uphill - and take in another great view.

If you decide to press on and follow the left hand side path back at the fork, you will in no time come to a set of stairs. These lead you to the best beach in South Lamma, Lo So Shing Beach. It is kept in fairly pristine condition by a militant government worker who is very anti-dog. So taking your doggie to the beach for a swim here may not work out. But you can either swim out to the pontoon for some fun or you can rest in Lo So Shing 'Village' (again loosely used) and have something to eat.

The walk from SKW to YSW takes anywhere from 45 – 80 minutes, again depending on how fast you walk and if you stop to rest or not. I'm sorry I can't be more specific as to what to look for past the stairs; I've never been brave enough to go up and over the mountains to Yung Shue Wan. But I know people who do it regularly and they love it!