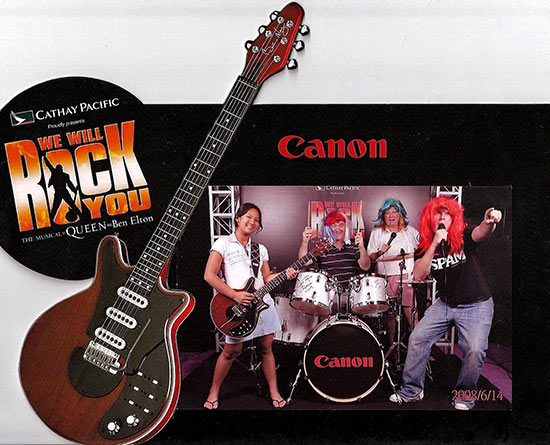 A picture really says more than a thousand words...
Click to zoom in on this photo of the newest Lamma Band, so you can easily recognise Sascha, Dan, Sharon & Andrew (from left to right).
This royal souvenir photo above has been submitted by KING Dan - who is sharing power equally with QUEEN Sharon, PRINCESS Sascha and PRINCE Andrew, Narnia- style. It was taken after the "We Will Rock You" show today. The KING might have severe second thoughts about submitting it by now, especially after he'll have to face the dire wrath of his entire embarrassed family for doing so. Fortunately, all of them have really great senses of humour (I hope!)
But this typical Lamma Band with their multi-coloured hairdos is so brand-new it's not even got a proper name yet! Who can come up with a suitable band moniker? And when will they rock Lamma in their first gig in The Island Bar (which the KING and QUEEN co-own)?
Trying hard to come up with some potential band names:
Rock the Petersons? The Island Barflies? Kings & Queens of Lamma?
The Lamma Royal Family? Queer Queens of Lamma? SPAM QUEENS?
SpammaLamma? Andy Spammer & the Petersonites?
Lamma Royalty Going Wild? Sassy Sascha & the Petersonians?
Flashy Sascha & the Canonites? Princess Sascha & the Island Queens?
Nah! I'm sure that you can come up with much better band names?