All very good and sound advice from Alan. I agree with his advice; for example, shake out your shoes as centipedes and other bugs love to hide in there. I've seen a big beetle crawl out of a kid's show, spooking even one of our usually unfazed, nature-loving Lamma kids.
Yes, centipedes are one of the underrated wildlife dangers on Lamma. Being bitten by a snake is an extremely rare happening (only heard of a single case this year so far, cobra, very unpleasant but not lethal), but centipede bites are fairly frequent here. The clinics here just give you a painkiller and antihistamine cream as their standard treatment, similar in pain and treatment to a wasp/hornet sting, from my own experience and so many other Lammaites.
The aggressiveness, biting without provocation, is what sets centipedes and mosquitoes apart from almost all the other, usually non-aggressive wildlife on Lamma. Yes, that includes snakes who'll rarely bite without being threatened or stepped on. A good friend of mine (see HK Mag cover this week) was bitten at night by a centipede in the most sensitive part of his body a few years ago. Maybe not a great idea to sleep naked...
If even a massive, super macho guy like Justin (he'd probably jostle with a Burmese Python, just for fun) is worried about centipedes, then us wimps better take him very seriously!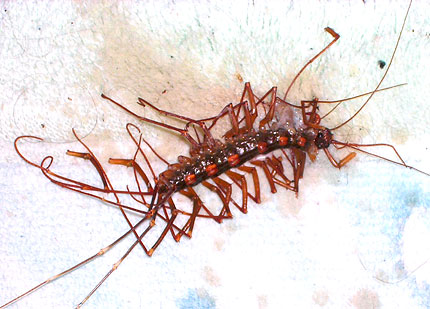 It's quite difficult to keep centipedes out of your flat, we've taped up the drains in kitchen and bathroom (do you EVER need these drains?), but I still found one in our 2/F bathroom some weeks ago and it wasn't the first time. Last time, one of the big black ones was inside my towel I grabbed after showering. The shaggy-legged, several inches long critter landed on my bare shoulder, but might have been too surprised to bite me before I brushed it off.
Full story.
Here's my after photo:
We keep any doors and windows without mosquito netting closed, but these critters can climb almost any wall. I've seen them crawl on our indoor staircase and even on our 2/F balcony's ceiling. Their spring/early summer spawning season has been in progress for quite a few weeks now and you can see them swarm all over the island. Bathroom/kitchen fans are a very likely point of entry. Gaps under doors make entry easy for centipedes, ants, spiders, cockroaches and geckos, all very common and hard to avoid in our flats, even in brand-new houses. Sticky, thick foam tape under entry doors helps, available in all our hardware stores. Small geckos and even spiders are welcomed by many Lammaites as they hunt other resident pests under control and rarely bother us humans. Big geckos, I usually catch with a soft towel, not to hurt them, and relocate them outside. Their noisy rustling after midnight in our bedroom is not welcomed by Lamma-Por, and their droppings can be wet and messy.
I thought sliding balcony doors were reasonably tight, but we were proven wrong a few weeks ago during a flying termite swarm invasion into our living room, crawling under the closed sliding doors in this almost new village house. These swarms of half-inch-long "white ants" are harmless but chasing after any light source. Sitting in an outside bar or restaurant a few weeks ago you'd have seen them, almost covering up some street lamps and any outdoor light source.
But don't get me started on the tiny dots of black "sand flies" that got outside and inside every piece of outdoor laundry these last few weeks. Very hard to shake them out of your laundry... and they actually bite!
These are just some of the many "Back to Nature" pleasures of living on an Outlying Island.

You're most welcome to add your own stories, as an information service for new potential residents...
P.S. Here's one of the creatures Justin probably encountered, the more common species of centipede you'll encounter on Lamma. Yes, we have several species! Photo from
Environment Places