---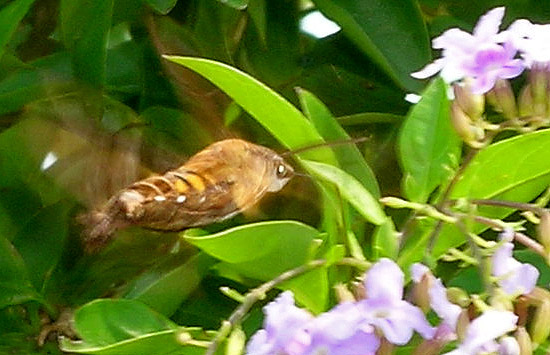 What is this beautiful moth called?
They seem to specialise in these pink flowers that grow in hedges and all over the hills. They're huge (about 1.5" long), are always in very fast motion and move almost exactly like humming birds, but stop for even less time at each flower, less than a second each.

This is the only usable flying shot (a bad reference-only shot as Guy would surely call it) I could get in about 20 minutes of following them around along the gorgeous hedge along the seawall of the temporary helipad. I've never seen any of the about ten individuals settle down anywhere.

My camera can't focus fast enough, doesn't do real close-ups or any serial shots and takes 20 seconds reloading time between flash shots, so this picture was kind of a fortunate coincidence. Time to upgrade.

This is also on the home page and it would be great to caption it.

There's also an orange-black bug and a green-pink grasshopper on the home page that I'd love to caption. Guy shot this bug before, but I can't find it. A stink bug or something like that?